12.8.2021
This drink, when unsweetened, is often used to cook and make vegetable cheeses, for millennia.
Since ancient times almond milk is a food, which can be found throughout the Mediterranean basin and the Middle East.
The fruit was introduced, for the first time, in Italy thanks to the Phoenicians who brought the cultivation of almonds from Sicily to Puglia and, then, to Basilicata and Calabria. However, the traditional processing of almonds for the production of drinks and sweets would instead be a precious Arab heritage.
The spread of almond milk increased in the Middle Ages because, not being of animal origin, it could also be consumed during Lent.
In the past five years it has even become America's favorite milk substitute, with sales growth of 250%, which represents 5% of the total milk market in spite of rice, soy or oat drinks.
NUTRACEUTICAL PROPERTIES
Today almond milk represents one of the most popular alternatives to cow's milk both for its particularly pleasant taste and for its high protein content, which is valuable for those who follow a vegan diet or in the case of a diet.
Due to its very low calorie content and high digestibility, it is often recommended for those with intestinal disorders. As it does not contain lactose, while being very nutritious, thanks to the natural fibers, it protects the intestine and promotes proper functioning.
The presence of omega-6 linoleic acid and the low amount of saturated fat contribute to making almond milk excellent for regulating the absorption of sugars by controlling blood cholesterol levels.
Almond milk is also an excellent anti-aging, able to counteract the action of free radicals, responsible for aging and cell damage.
Essential beauty ally thanks to the presence of vitamin E, fat-soluble and antioxidant, while vitamin B2 strengthens nails and hair and at the same time moisturizes the skin.
The drink is particularly loved by women because it reduces the risk of osteoporosis, due to the important content of calcium, vitamin A and vitamin D.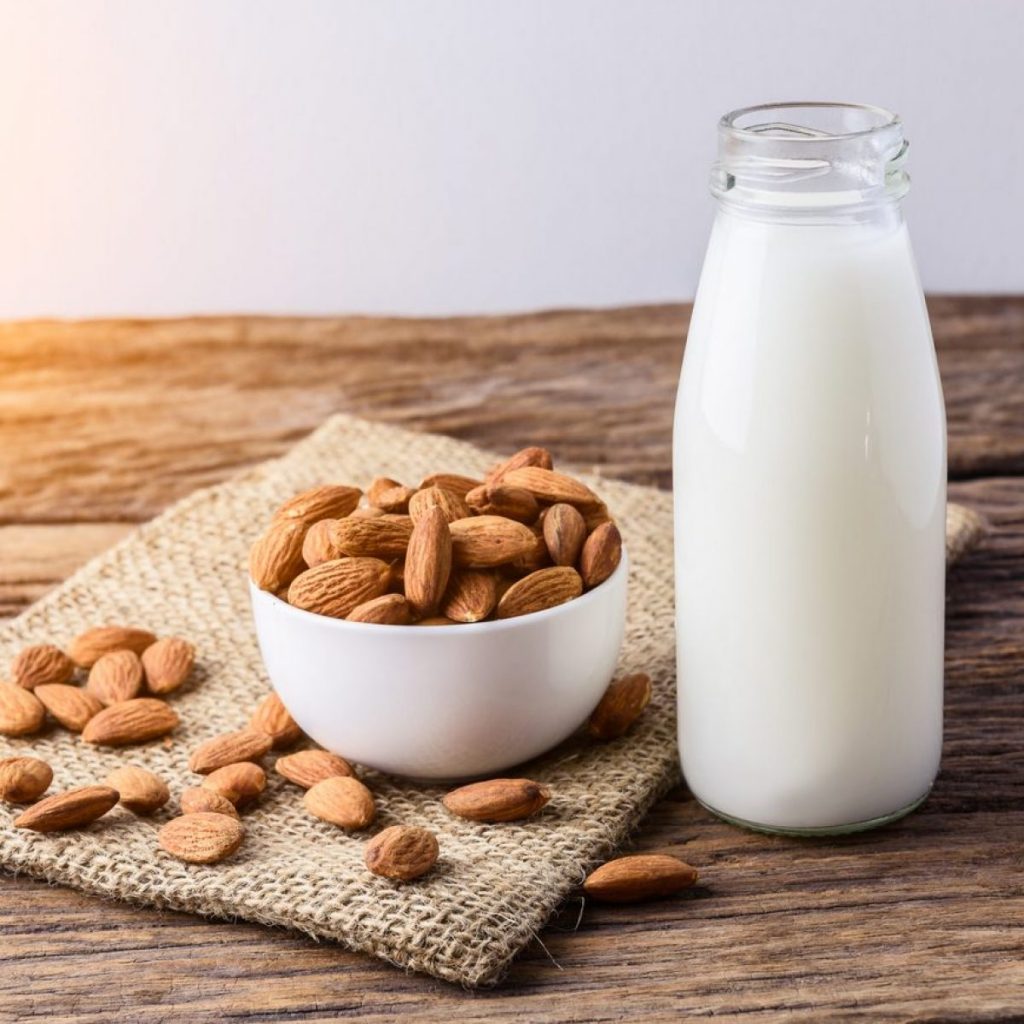 THE CALABRIAN RECIPE
To produce artisan almond milk, we start from finely chopped almonds with water and then cold filtered, in such a way as to let out all the juice present inside them.
The Calabrian almonds used in this production are grown in the traditional way, i.e. without the use of additional irrigation and they only receive water from the sky.
This ensures that the seed retains a high concentration of essential oils and that the almond retains its characteristic intense flavor.