25.8.2021
What is that fruit plant that lives up to 500 years, grows very well in Calabria, thanks to the particular mild climate and whose fruits have great beneficial properties?
But certainly the carob, whose fruit, so called carrubba in Italian (carob), is suspended between history and legend, but at the same time has incredible nutraceutical properties.
Carob is good for health. Thanks to its high content of fibers and polyphenols, it helps correct intestinal function. Reduces cholesterol levels. It is often used in slimming diets, because it has a reduced calorie intake and gives an immediate sense of satiety. Consumed alone, it has just over 200 calories per 100 grams of weight. It is gluten-free and therefore suitable for celiacs. It is also an excellent alternative to cocoa in the preparation of desserts thanks to its sweetish-tasting seeds without the same calories. And unlike cocoa, it is caffeine-free. It has antioxidant properties and is rich in minerals, such as potassium, calcium, phosphorus and magnesium. It is an essential source of B vitamins, including Vitamin B12. Finally, it is rich in Omega 3 and Omega 6 essential fatty acids.
HISTORY AND LEGEND
Among myths, legends and tales made by grandparents, we can say that the carob tree was a tree with very important and often indispensable fruits, being even called "St. John's the Baptist bread"
Even if you do not recognize it immediately, if by chance you find yourself under its branches you will recognize it, at least, for the unmistakable scent given by its particular fruits.
We are talking about the carob, an evergreen tree with a majestic appearance (even reaching a height of 10 meters), which lives, as mentioned, up to 500 years, and finds its natural habitat in rocky and limestone soils with warm climates.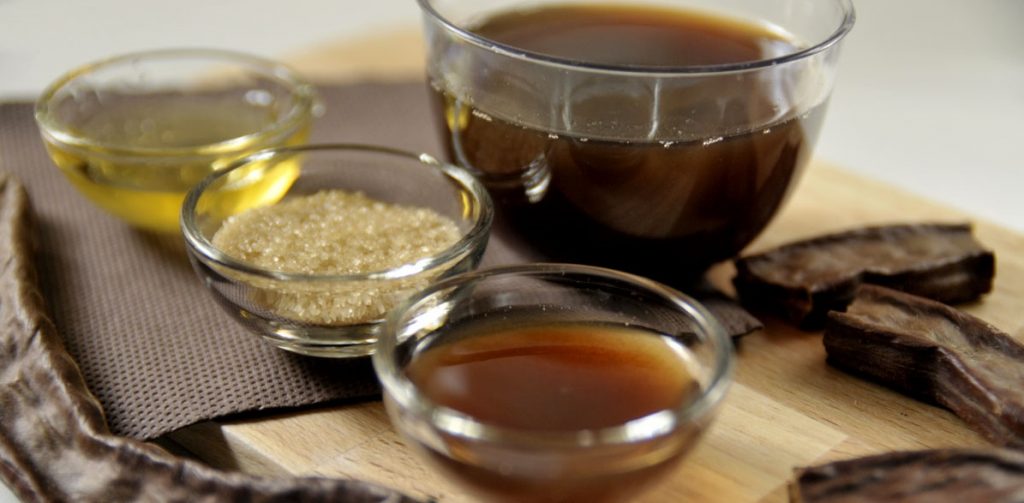 It is for these characteristics, despite not being a shrub originally from Calabria, that the carob tree has found a welcoming home here and, although today it is almost forgotten by agro-industry, it is one of the oldest and most popular crops.
It is in fact native to Syria, from where it spread to Europe, North Africa, the Middle East and Western Asia, and today it is grown mainly in Spain, Portugal, Africa and in some countries of the Middle East and also in southern Italy.
The name derives from the Arabic "kharrūb" which means "carat", probably because it was believed that the seed of the carobs always had the same weight (1 fifth of a gram) and therefore it was possible to use them to weigh gold and precious stones.
According to the legend, the name "Saint John's bread" derives from the fact that Saint John fed on this plant during the long periods of asceticism in the desert.
However, also without mentioning saints and sacred books, nowadays the testimony reported by our grandparents is also that in periods of great economic restrictions generated by the war, they ate (indeed fed in some cases) carob, which is sufficient to give credit both to the legends and to scientific theories about dietetic importance of this fruit.
CAROB'S HABITAT IN CALABRIA
Carob is a high quality fruit that is also good for health. It grows spontaneously in Calabria, especially in so called area of Locride (the district of the town of Locri on the Ionian Sea), but still today the right value is not recognized.
This particular fruit can be used in various ways in the kitchen. Furthermore, in more recent times, its properties have been re-evaluated thanks to the wide use made of it by vegetarians and vegans.
The carob is also a beautiful ornamental plant. In the villages between Africo and Locri it already embellishes many streets, squares and houses. It is privileged for its dense foliage that offers beautiful shaded areas especially in summer.
In the rest of Italy, carob plantations can be found on the Ligurian coast, in Tuscany and a little throughout the center-south. There are also important crops in Sicily. In Puglia, a regional law of 2007 made it a protected species to prevent the species from being lost and to support the economic importance of the carob tree which was in decline. In Sicily there are important carob groves in the areas of Syracuse and Ragusa where some industries are still active, which transform the fruit of the carob into semi-finished products, used in the confectionery and food industry.
NOTES OF BOTANY
The carob – the fruit of the homonymous tree which has large and thick leaves of a dark green, glossy color, and in summer produces numerous reddish flowers (but only the female plants bear fruit) – belongs to the same family of legumes, that of Fabaceae and of the genus Ceratonia.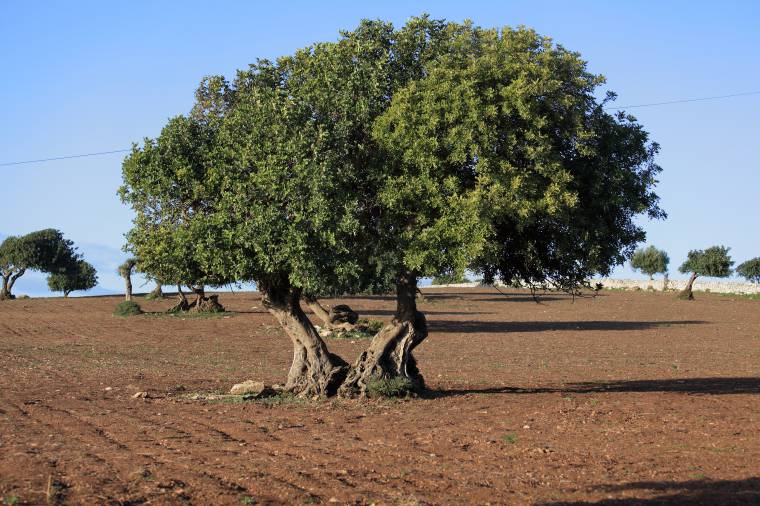 It grows well in arid soils and tolerates hot climates well. The carob is an evergreen tree that can reach a height of 10 meters and lives for at least 5 centuries. In summer it produces numerous reddish flowers.
The fruits of the carob are green pods, about 15 cm long and containing very hard, round and flat seeds, edible (after processing), which become dark brown when ripe. This plant is native to Syria and from there it spread to the Middle East and North Africa. In Europe it is grown mainly in Greece, Spain, Portugal and Italy.
The name, as above mentioned, should derive from the Arabic "kharrūb", but carob is also known as "St. John's bread", because it is said that the saint ate it during long periods of fasting and prayer.
It has to its advantage the high presence of fibers and polyphenols which lower cholesterol levels in the blood; it is also an adjuvant in slimming diets thanks to the fact that it creates a sense of satiety. They are also an astringent, anti-haemorrhagic, antacid, gastric antisecretive food.
GASTRONOMY OF CARRUBBA
The pulp of the carob beans has a sweetish taste, similar to that of cocoa, plus it is gluten-free and therefore versatile for celiac preparations.
If in ancient times, especially in the streets of the countryside, young and old were seen with one of these brown sticks in their mouths (they were a sort of bit of unrefined candies for children) today carobs are only found in selected supermarkets, even under form of processed products (such as flour or sugars).
Of the artisanal transformations, the one that keeps its position firmly, in the market and among the family preserves, there is certainly the carrubba candy, small squares still made in an artisanal way that, in addition to sweetening a moment of the day, are a panacea for cold ailments.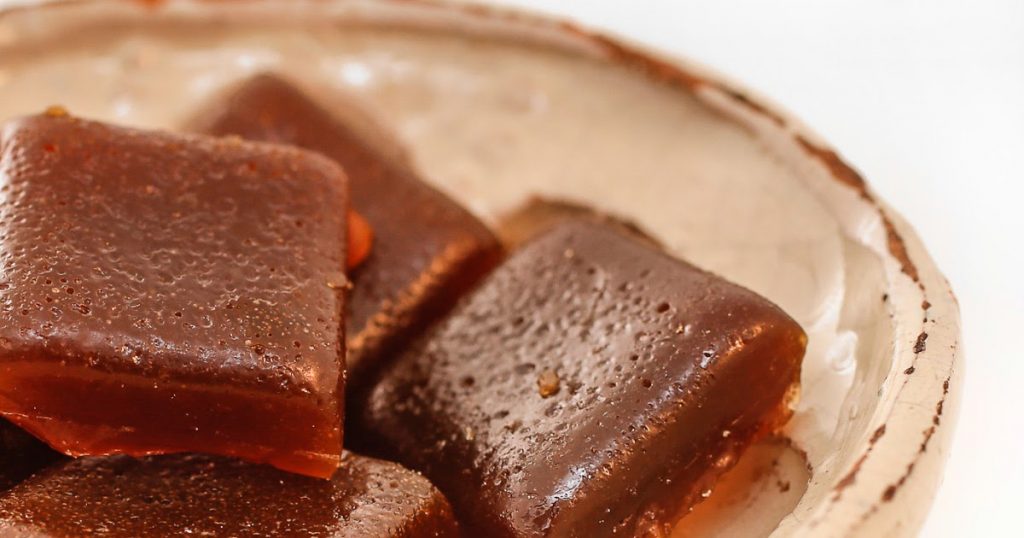 Carob infusion, as a medicinal remedy, is also used to calm coughs, sore throats and to lighten the throat. This is a use especially made by opera singers until the last century.
But the infusion is also a typical Ramadan drink that is easy to prepare and is good for everyone: just leave the broken carob beans in cold water for a couple of hours. The result is a very sweet drink that is drunk after sunset and which replenishes sugars, liquids and salts lost during the ritual fast.
The flowers allow the bees to produce high quality honey. From the maceration of the same one obtains ethyl alcohol or liqueurs flavored with the same fruit.
Carobs, which keep for a long time, can be also eaten fresh or dried and, alternatively, lightly baked. In the past, especially in times of war or famine, the ground seed became flour.
A SPECIAL DERIVATIVE: CAROB FLOUR
Carob pulp flour is a suitable food for the diet of diabetics and celiacs, due to the presence of reducing sugars that do not alter the glycemic rate and the very low presence of gluten.
The high content of dietary fiber makes carob a food with satiating properties and for this reason its intake is recommended in slimming diets.
Carob pulp flour is an effective antidiarrheal: in fact it has an absorbing action of toxins that cause intestinal infections. It also exerts an antiseptic action on pathogenic bacteria of the intestinal tract and a rebalancing action on the intestinal bacterial flora. It is indicated in subjects with a special diet, with severe digestive tract disorders or veterans of infectious diseases.
Furthermore, the flour does not contain psychoactive substances and for this reason they represent a valid substitute for chocolate for those people who have allergy or intolerance problems towards the latter.
The appearance of the flour is that of a sweet brownish powder, with a flavor very similar to cocoa, for which it is considered a substitute. It is used for the preparation of cakes, biscuits, creams and ice cream, using it instead of cocoa powder in the same quantities. It is also used, thanks to the high content of natural sugars, as a sugar substitute, especially in baked desserts that require home preparation. It can also be used as a natural thickener in the preparation of soups, sweet creams, sauces for condiments, jams and ice creams. In fact, carobs contain pectin, a gelling and thickener useful in the kitchen and also used in the food industry.
On a gastronomic level, carob pulp flour can represent an additional ingredient in the preparation of fresh pasta or a special bread. In Calabria, carob flour is used for the preparation of gnocchi, risotto, tagliatelle, mostaccioli and granite.
Carob pulp flour can also be used for the preparation of hot drinks, replacing soluble coffee, especially for those who cannot take it due to the caffeine content, powdered barley or cocoa
Finally, the carob pulp flour should preferably be stored inside a glass jar with a lid or hermetically sealed, to be stored away from light and in a dry place.