17.8.2019
"PURPPETTI" (SPECIAL CALABRIAN MEATBALLS)
Typical of mountain areas, these aromatic meatballs, full of parmesan, black pepper, parsley and a fine powder of stale bread, are now spread throughout the region. They are prepared with a fair amount of protein products: raw pork, eggs, goat cheese and oil and salt.
The dough is then fried, becoming caloric but extremely good.
"LICURDIA" (A SPECIAL VEGETABLES SOUP)
This dish has a special taste, it is a must of Mediterranean cuisine, at the same time is a very traditional recipe. This soup can contain various vegetables, such as endive, beets, asparagus or carrots, cooked to become cream to dip slices of toasted bread. In any case, the main ingredient is the red onion of Tropea, absolutely the starring of this recipe with its strength and sweetness.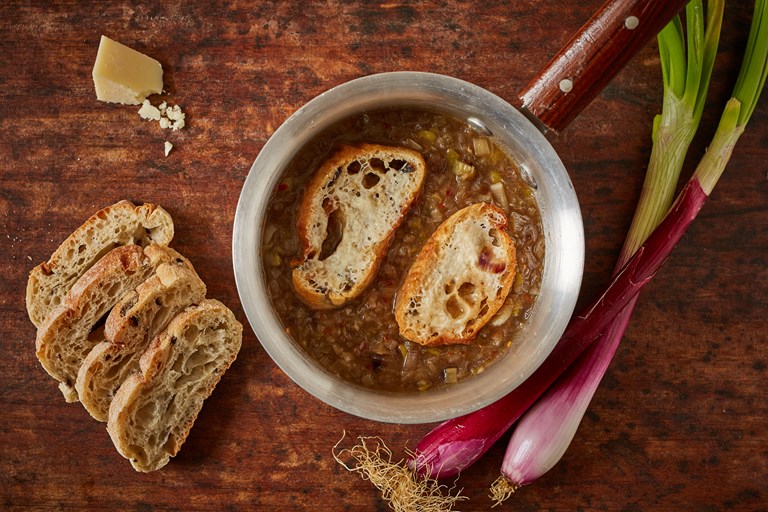 "PASTA E PATATE ARA TIJEDDRA" (A KIND OF PASTA WITH POTATOES)
It is the simpler version of the pasta "ncasciata or pasta a lu furnu" (a baked pasta).
The recipe of pasta "ncasciata or pasta a lu furnu" is very popular with various names throughout the South. The variants contains various measure of salami, hard-boiled eggs, meat, caciocavallo cheese and provola cheese. All these ingredients come into play.
Instead, the "pasta e patate ara tijeddra" is cooked using only pasta, potatoes, sauce, cheese and stale breadcrumbs.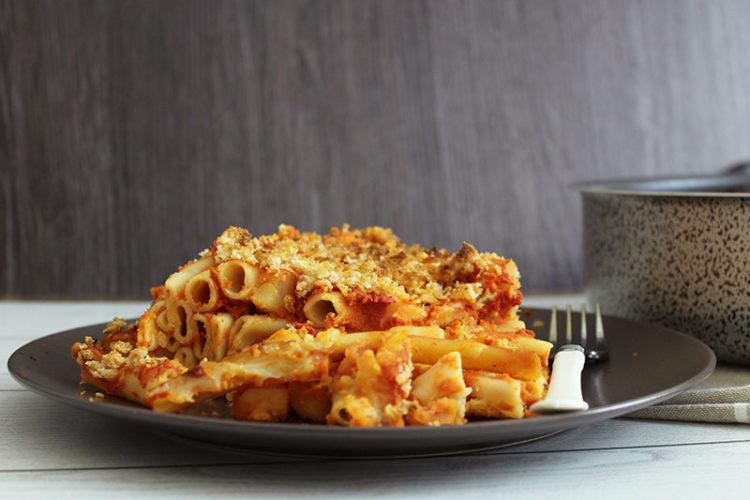 "LAGANE E CICIARI ARA CUSENTINA" (A KIND OF PASTA)
The "Lagane" (a kind of pasta) are mixed together with a chickpea sauce. Lagane are among the first types of pasta attested in ancient texts, they are similar to tagliatelle, but their ingredients are only water and flour, they are cooked in salted water, and then seasoned with a lightly fried sauce, oil, garlic, chilli and chickpeas, boiled separately. The outcome is a very traditional dish that comes from afar.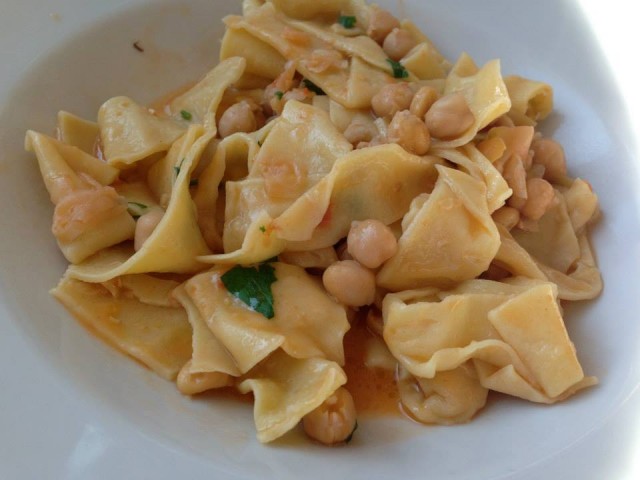 "MACCARRUNI ARU FIERRU" (A HAND MADE PASTA)
The 'fierru' is the iron instrument (a sort of knitting needle) still used today for the preparation of this pasta. Fresh pasta is prepared with milled durum wheat semolina and water: it is seasoned with very rich sauces, such as beef ragout, pork or goat, or with the beloved 'nduja.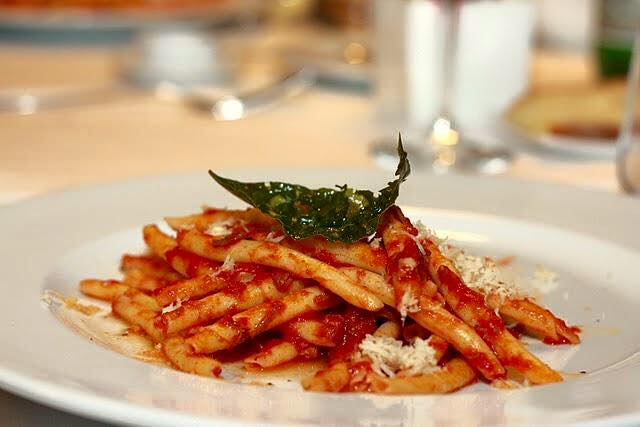 "PESCE SPADA ALLA GHIOTTA" (SWORDFISH "ALLA GHIOTTA")
Swordfish is the protagonist of the Calabrian seafood cuisine, which is influenced by neighboring Sicily. There are various recipes: one of the most famous is the sowrdfish "alla ghiotta" with tomato, capers and olives but the version of Reggio Calabria ("riggitana") is also widespread, where only garlic, oil and parsley are used.
"MAZZACORDE ALLA COSENTINA" (OFFAL ROULADE)
This dish uses the less noble parts of the lamb: lung, spleen, heart, tripe, which  are coarsely chopped and wrapped in the guts of the lamb. After a short turn in oil and onion, the cook adds tomatoes, bay leaves and other aromatic herbs. The "mazzacorde" are accompanied with peppers and browned potatoes.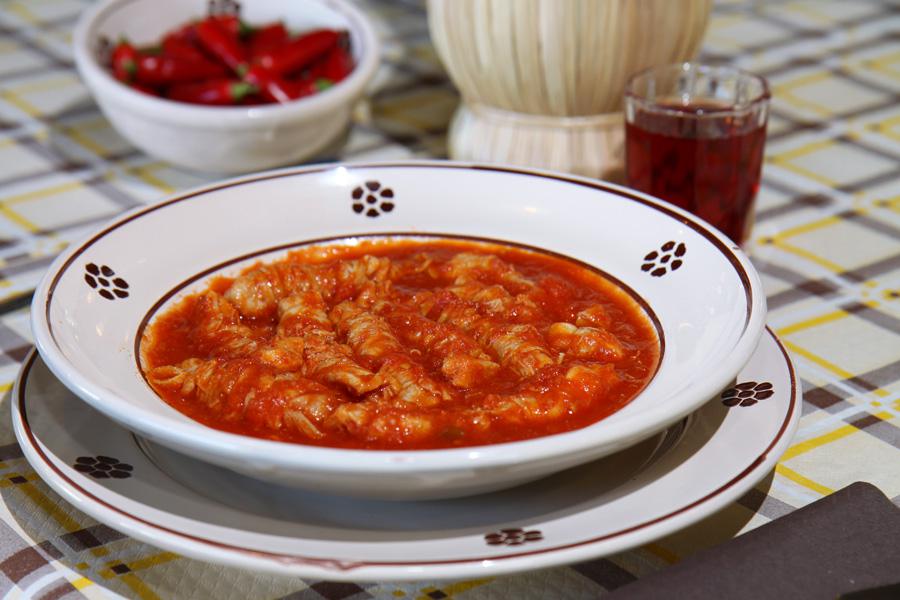 "STOCCO ALLA MAMMOLESE" (STOCKFISH "ALLA MAMOLESE")
In Calabria, the stockfish is part of a myriad of recipes: it is prepared with mushrooms, beans, salad with lemon and parsley and in many other ways. But the most important remains the stockfish "alla Mammolese": in this small town in Reggio area, the dried cod is cooked with tomato sauce, potatoes, peppers and olives.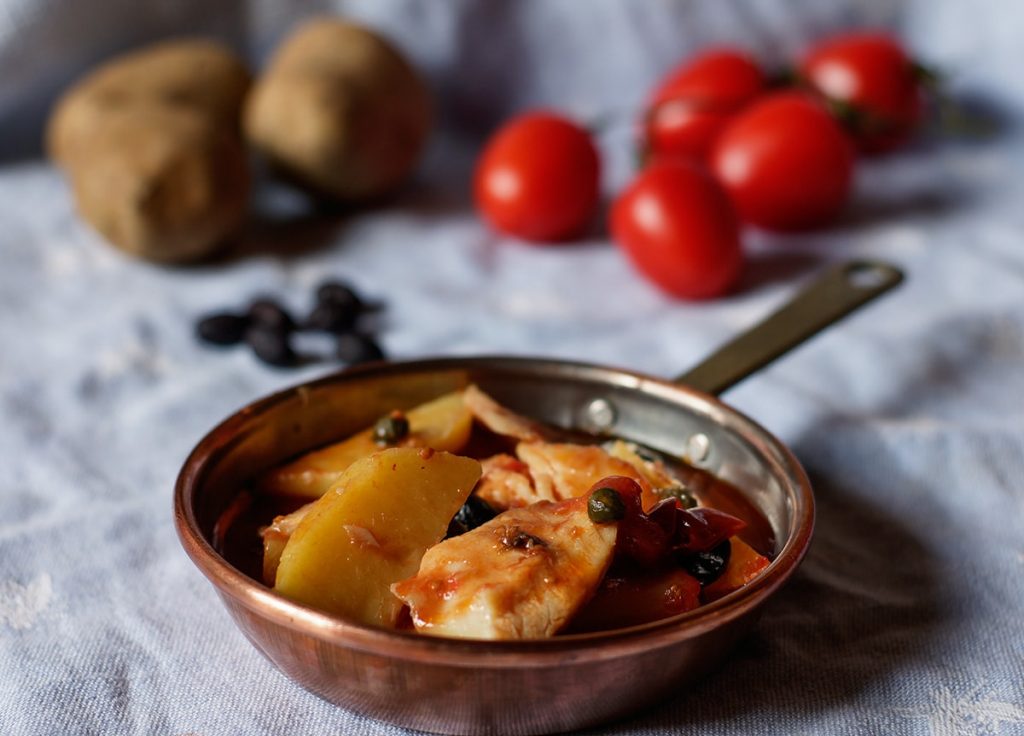 "MELANGIANI CHJINI" (STUFFED EGGPLANT)
The most common ones are prepared with the filling of the flesh of the same aubergines: the flavor is determined by the mixture with the cheese and the natural aromas. Other regional recipes include stuffing, ricotta, vegetables, potatoes, onion and tomato sauce in the filling.
"CREMA REGGINA" ("REGGINA" CREAM)
Legend has it that it was born at the beginning of the nineteenth century due to the mistake of a pastry chef in the preparation of a classic cream.
Calabria has a good reputation in the art of ice cream making. This icecream of Reggio is now considered a Traditional Agri-food Product – based on milk. sugar, carob seeds, rum, candied fruit and chocolate.