8.1.2019
A PLENTY OF RECIPES
Calabria is a terrain somehow ideal as location for breeding. This unique territory allows to pigs, lambs and goats to roam around. Therefore, the sun and hardy soil make for an ideal environment to grow an abundance of animals and also vegetables like tomatoes, eggplants, zucchini, mushrooms, sweet fruits and olive. Calabrian olive oil is used also to preserve all afore mentioned products.
Cured pork products give raise to a wide selection of salami, from soppresata Calabrese to capicolla. They accompany Pasta, which is eaten daily in  Calabria; the homemade version is generally made only with semolina flour and water.
Therefore, a typical recipe is, combining such ingredients, "Pasta al forno", a traditional Calabrian dish of baked pasta dressed in homemade sauce. The latter is made with ground meat and with fresh mozzarella, salami, hard-boiled eggs and ham. The dish is widely prepared as Sunday dish. Further, inside this recipe, it normal to meet, mixed or topped, the the very famous "peperoncino". Whether fresh, dried, whole or crushed, rarely there is a meal made without some form of this spice. Famous throughout the country and varying in heat intensity, Calabria's chili peppers are practically a must of this cuisine.
A second recipe, using main local ingredients, is 'Nduja, one of Calabria's most famous and beloved foods! This soft, spreadable spicy sausage is a blend of local chili peppers, meat and salami. It is unique in Spilsby, a town in the province of Vibo Valentia, where it is made with the pork fat and lots of chili.
A third recipe is "Lagane e cicciari". This pasta dish is made with wide noodles, chickpeas, garlic and oil.
We can mention also "Pasta ccu ri sarde", a dish of Fresh sardines with breadcrumbs, raisins and pine nuts.
Another one is "Pasta e patate ara tijeddra", a dish from the town of Cosenza where ingredients – pasta, potatoes, tomato sauce, cheese and breadcrumbs – are taken raw and cooked together on the stove, then put briefly in the oven to obtain a crispy crust.
"Maccheroni col ferretto" (also known as "Scilatelle") is made from semolina durum wheat and water, using a special 'ferretto' a long piece of metal, to make a hole in the maccheroncini.  They are served with very rich sauces, such as beef, pork or goat ragu, or with 'nduja.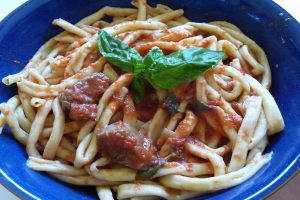 "Licurdia" is a soup of different vegetables such as escarole, Swiss chard, asparagus or carrots. Another fundamental ingredient is the red onion of Tropea, the star of this dish, giving it flavor and sweetness. The vegetables are cooked with lard and water for a few minutes; once they have melted and turned into a cream, they are placed in a dish over slices of toasted bread, with red peppers and pecorino cheese to top it off.
From vegetables, Calabrians obtain "Ciambotta", a dish of eggplants, tomatoes, onion and herbs, a little bit varying from city to city.
Among the more delicious Calabrian sweets, there is "Pignolata", similar to "Struffoli" of Campany. It is a "mountain" of fried honey balls-shaped kind of sweet. Originally coming from a Sicilian recipe, Pignolata is very popular in the region, especially in the city of Reggio Calabria, during holidays like Carnevale and Christmas.
OTHER RECIPES OF CALABRIA
"Ricotta Affumicata Crotonese" is a product of upper Crotonese and town of Mammola. The recipe provides that "ricotta" is the whey that remains from the processing of milk. Once formed the ricotta is smoked for a few days, exposing it  to wood smoke, fragrant plants and chestnuts. Also "Giuncata" is a very special recipe, a cream of cheese produced in Sila and the Plain of Sybaris. The name comes from the practice of collecting the curd in cane containers, which give the cheese its unusual surface texture. It is a smooth texture, delicate, with a slightly acidic taste.
In the field of breads, we can cite "Pane di Cerchiara", the most popular breads, coming from the town of Cerchiara, in the area of Pollino. It is cooked in furnaces and sold in every bakeries of Calabria.  "Pane di Mangone" is also quite famous, it is cooked in Mangone, a small village in the province of Cosenza, and due to its special baking method, it stays soft for days. "Sguta", instead, is a bread neriched of raw egg, cooked in the oven and eaten either sweet or savoury. "Pitta bread" is a traditional Calabrian flatbread with a crunchy crust and a soft inside, stuffed with peppers, tomatoes and herbs, or with sausage and peppers, or with broccoli and caciocavallo cheese…the options are many, and pitta sure is a favorite during feast days and also a classic Calabria street food. Finally, "Pane del Pescatore" is a bread enriched with eggs and dried fruits, reflecting the Greek and Arabic flatbread influences.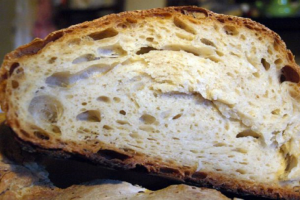 Among the sweets, it is hard not to mention the traditional licorice of Rossano Calabro, known since 1700, or "Mostaccioli", any sweets of Arabic origin made with honey and sweet wine. "Mostaccioli", produced originally in Soriano Calabro, are now widespread throughout Calabria, similar to hard and dry cookies and sometimes enriched with warm must. We have to cite also "Torrone di Bagnara", a sweet nougat, and "Gelato alla crema reggina", a creamy pastry preparation usually consumed as gelato,  typical of the province of Reggio Calabria and with a pinkish color.