4.2.2020
Among the most interesting wines of Calabria you can find "Melissa", a protected denomination wine (so called DOC), which enriches cuisine and gastronomy with its historically recognized prestige. A relic of ancient winemaking of Magna Grecia, but still today appreciated for the excellent organoleptic characteristics, obtained by only Gaglioppo grapes.
THE LAND OF THE WINE
The vineyards are placed in Cirò, Cirò Marina, Crucoli e Melissa Districts, where Gaglioppo  grapes find optimal conditions, thanks to a soil rich of nutrients, to a tempered climate, the long sun exposition and…to the wonderful people living here.
The central territory of production is Torre Melissa, in the very heart of that Calabrian zone indicated as "Alto Ionio Calabrese", with an area of 54.800 hectares, where this nectar is so named after "Melisseus", an ancient prince of Crete or after "Melissa" municipality (in turn named after the Cretan prince who is said to have founded it).
The vineyards lie on the east-facing hills or close to the coast, so near to the sea that this makes Ciro and Melissa the lowest-lying viticultural areas in Calabria. Here, Melissa wines are either red or white (the latter type is effectively vanishing from production). The white wine comes from the grapes of Greco Bianco, Trebbiano and/or Malvasia Bianca.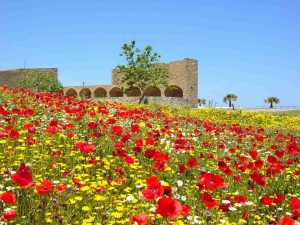 The sea is near to the terroir here, and the marine cooling and heating of the land causes morning and afternoon breezes, which exclude the risk of fungal vine diseases.  The terroir is quite the same of Cirò DOC, in many cases, therefore this Ciro's neighbors can enjoy quality and success of its winemaking.